Brent Richter, North Shore News – October 25th, 2018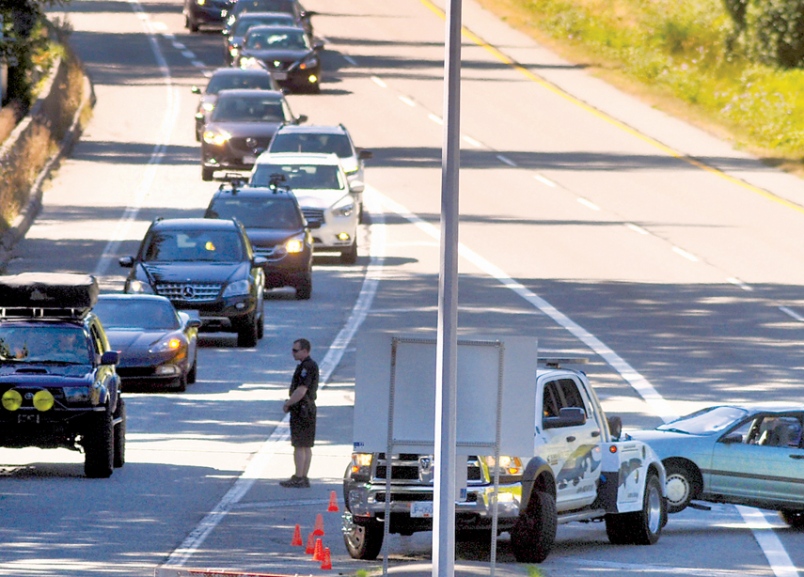 Help may be on the way when it comes to traffic SNAFUs on Highway 1 through the North Shore.
The province has signed a new highway maintenance contract with Miller Capilano Highway Services that includes stipulations that should lead to faster clearing of stalls and crashes from the Ironworkers Memorial Second Narrows Crossing and Lions Gate Bridge as well as a higher level of readiness for clearing snow and ice on the roads.
Expedited incident clearing was one of the actions called for in the recently released Integrated North Shore Transportation Planning Project report, led by North Vancouver-Lonsdale MLA Bowinn Ma.
"We already know that congestion and volumes are high but what's even worse is when there's a vehicle incident on one of our only two vehicle crossings over the Burrard Inlet," Ma said. "People have been asking for this kind of service improvement for a long time. Municipalities have been asking for it too."
Under the old contract with Mainroad Group, the contractor was only expected to have one tow truck available 24/7 plus two vehicles during rush hour for the Ironworkers and Cassiar Tunnel. The new contract with Miller Capilano states there must be two vehicles on 24/7 plus a third vehicle between the hours of 6 a.m. and 10 p.m. And unlike the old contract, the new one specifies there must be a least one flatbed truck and one heavy wrecker truck capable of pulling a broken-down bus or transport truck.
"When we have commercial vehicles stalled out on the roadways and the standby vehicles aren't capable of handling commercial vehicles, it can take a long time for us to get that out of the way. Even a five-minute stall can have repercussions," Ma said. "Every minute counts here. … Now we're definitely prepared for that."
When a winter storm is in the forecast, the new contractor must patrol the highway every four hours instead of every 24, and every 90 minutes during a storm, down from every four hours.
Still in place, however, are rules that require the RCMP to investigate before crashes can be cleared. Ma said changing those rules is more complex, but she continues to lobby the solicitor general. "They're still looking into it. It's not something I let them forget about, let's just say," Ma said.
The contract comes into effect on Nov. 1 and is expected to last 10 years, with an optional five-year extension.