Bowinn Ma, MLA offers a popular e-mail service that provides curated information you need to know about British Columbia's response to COVID-19. These bulletins are rapidly produced when new emergency public health orders are issued and include information about financial and social supports for people and businesses.
➤ Subscribe to receive MLA Updates and COVID-19 Bulletins.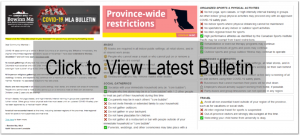 Note: This bulletin includes a correction.
Archive of Previous Bulletins
| | | |
| --- | --- | --- |
| Date | Subject | |
| Nov 19, 2020 | MLA's COVID-19 Bulletin: Restrictions Extended Province-Wide |  (also see correction) |
| Nov 12, 2020 | COVID-19 Bulletin: VCH & FHA Restrictions Continue | |
| Nov 7, 2020 | COVID-19 Bulletin: Critical 2-Week Public Health Orders | |
| Sept 20, 2020 | MLA's COVID-19 Bulletin: StrongerBC | |
| Sept 11, 2020 | MLA's COVID-19 Bulletin: September 11, 2020 | |
| Sept 8, 2020 | MLA's COVID-19 Bulletin: September 8, 2020 | |
| Sept 4, 2020 | MLA's COVID-19 Bulletin: September 4, 2020 | |
| Aug 22, 2020 | MLA's COVID-19 Bulletin: August 22, 2020 | |
| Aug 14, 2020 | MLA's COVID-19 Bulletin: August 14, 2020 | |
| July 31, 2020 | COVID-19 Bulletin: BC Day Long Weekend (July 31, 2020) | |
| July 24, 2020 | COVID-19 Bulletin: Rebound Risk (July 24, 2020) | |
| July 10, 2020 | RestartBC: MLA's Bulletin (July 10, 2020) | (also see correction) |
| June 24, 2020 | RestartBC: Phase 3 (June 24, 2020) | |
| June 12, 2020 | RestartBC: MLA's Bulletin June 12, 2020 | |
| May 29, 2020 | RestartBC: MLA's Bulletin May 29, 2020 | |
| May 22, 2020 | RestartBC: MLA's Bulletin May 22, 2020 | |
| May 29, 2020 | RestartBC: MLA's Bulletin May 19, 2020 | |
| May 15, 2020 | RestartBC: MLA's Bulletin May 15, 2020 | |
| May 7, 2020 | COVID-19 MLA's Bulletin: May 7th, 2020 | |
| Apr 30, 2020 | COVID-19 MLA's Bulletin: April 30, 2020 | |
| Apr 17, 2020 | COVID-19 MLA's Bulletin: April 17, 2020 | |
| Apr 15, 2020 | COVID-19 MLA's Bulletin: April 15, 2020 | |
| Apr 9, 2020 | COVID-19 MLA's Bulletin: April 9, 2020 | |
| Apr 4, 2020 | COVID-19 MLA's Bulletin: April 4, 2020 | |
| Apr 1, 2020 | COVID-19 MLA's Bulletin: April 1, 2020 | |
| Mar 30, 2020 | COVID-19 MLA's Bulletin: March 30, 2020 | |
| Mar 27, 2020 | COVID-19 MLA's Bulletin: March 27, 2020 | |
| Mar 25, 2020 | COVID-19 MLA's Bulletin: March 25, 2020 | |
| Mar 23, 2020 | COVID-19 MLA's Bulletin: March 23, 2020 | |
| Mar 21, 2020 | COVID-19 MLA's Bulletin: March 21, 2020 | |
| Mar 20, 2020 | COVID-19 MLA's Bulletin: March 20, 2020 | |
| Mar 17, 2020 | COVID-19 MLA's Bulletin: March 17, 2020 | |
| Mar 16, 2020 | COVID-19 MLA's Bulletin: March 16, 2020 | |
| Mar 13, 2020 | COVID-19 MLA's Bulletin: March 13, 2020 | |