The Ministry of Mental Health and Addictions was created in 2017 to build a seamless, coordinated network of mental health and addictions services that works for everyone in B.C., as well as lead the response to the overdose crisis.
➤ Visit BC Gov Mental Health & Substance Use to explore supports and resources.
➤ Access free and low-cost Mental Health Supports.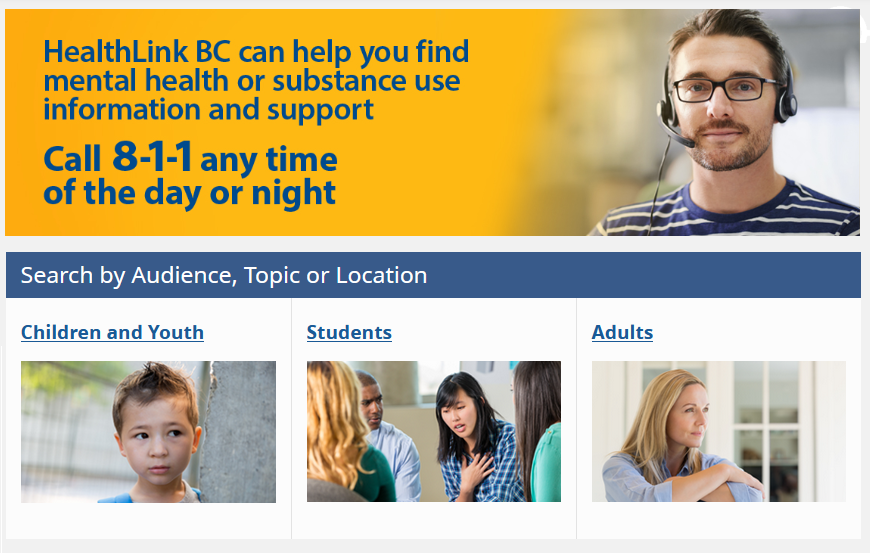 Emergency Resources
If you or someone you know is in immediate danger, call 9-1-1. On the North Shore, Car 22 pairs officers with a Vancouver Coastal health mental health care professional to respond to emergencies relating to mental health.
If you are in crisis and/or distress and require immediate response, please contact the Distress Support Line using the numbers and links below. You can also find a local Crisis Support Centre near you.
Distress Line Numbers:
Greater Vancouver
604-872-3311
Toll free – Lower Mainland and Sunshine Coast
1-866-661-3311
TTY
1-866-872-0113
BC-wide
1-800-SUICIDE (1-800-784-2433)
Online Distress Services
www.youthinbc.com, www.crisiscentrechat.ca
Seniors' Distress Line
604-872-1234
Mental Health Support (BC-wide)
310-6789
On the North Shore, you are also able to call the North Shore Peer Assisted Care Team (PACT) for help. PACT is a mobile civilian-led team launched on November 4, 2021, that will respond to crisis calls related to mental health and/or substance use on the North Shore. Available in both English and Farsi, you can contact them for yourself or a loved one by calling 1-888-261-7228 or text 778-839-1831. Their service hours are Thursday to Sunday, 6 pm to 12 midnight.
Local North Shore Resources
Foundry North Shore
211 W. 1st Street, North Vancouver, BC V7M 0E3
Phone: 604-984-5060
Family Services of the North Shore
Suite 203 – 1111 Lonsdale Avenue, North Vancouver, BC V7M 2H4
Phone: 604-984-9627
Hollyburn Community Services
Unit 104 – 267 West Esplanade, North Vancouver, BC V7M 1A5
Phone: 604-987-8211
Canadian Mental Health Association of North and West Vancouver
Suite 300 – 1835 Lonsdale Avenue, North Vancouver, BC  V7M 2J8
Phone: 604-987-6959
HOpe Centre at Lions Gate Hospital
1337 St. Andrews Avenue, North Vancouver, BC V7L 3L4
Phone: 604-984-5000
Local Resources for Indigenous Peoples
For more Mental Health resources for Indigenous people, in Metro Vancouver resources, please visit the Aboriginal Executive Council's Mental Health Resource List.
LGBTQ+ Resources
Last updated: June 17, 2022.