The Ministry of Mental Health and Addictions was created in 2017 to build a seamless, coordinated network of mental health and addictions services that works for everyone in B.C., as well as lead the response to the overdose crisis.
➤ Visit BC Gov Mental Health & Substance Use to explore supports and resources.
➤ Access free and low-cost Virtual Mental Health Supports during COVID-19.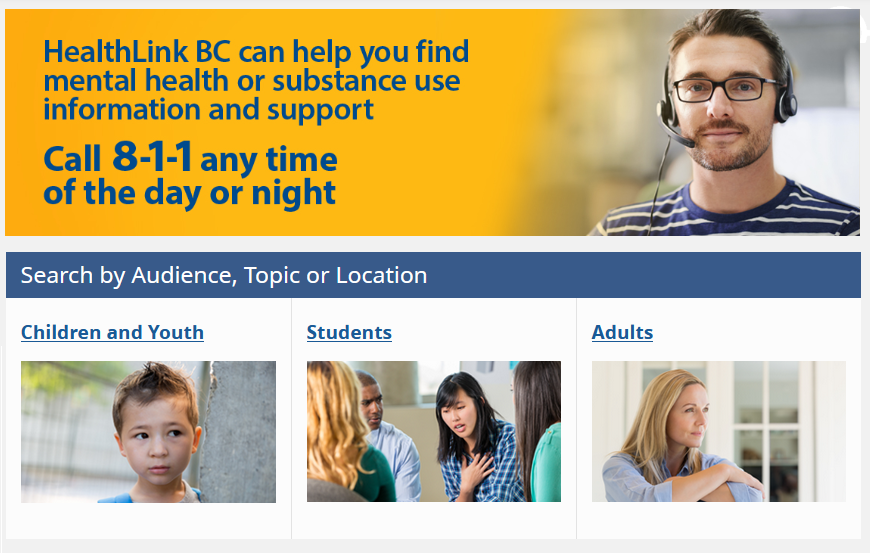 Emergency Resources
If you or someone you know is in immediate danger, call 9-1-1 immediately. If you are in crisis and/or distress and require immediate response, please contact the Distress Support Line using the numbers and links below:
Distress Line Numbers:
Greater Vancouver
604-872-3311
Toll free – Lower Mainland and Sunshine Coast
1-866-661-3311
TTY
1-866-872-0113
BC-wide
1-800-SUICIDE (1-800-784-2433)
Online Distress Services
www.youthinbc.com, www.crisiscentrechat.ca
Seniors' Distress Line
604-872-1234
Mental Health Support (BC-wide)
310-6789
You can also find a local Crisis Support Centre near you.
Local Resources for Youth
For more youth mental health resources, please visit the Government of BC's Child & Teen Mental Health page.
Local Resources for Indigenous Peoples
For more Mental Health resources for Indigenous people, in Metro Vancouver resources, please visit the Aboriginal Executive Council's Mental Health Resource List.
LGBTQ+ Resources