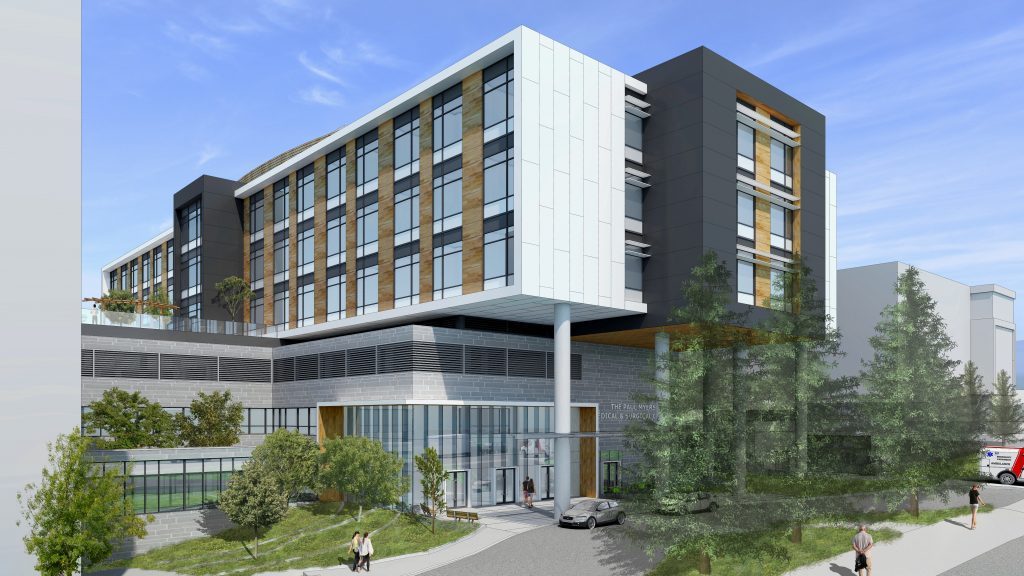 VANCOUVER COASTAL HEALTH/DYS ARCHITECTURE — Lions Gate Renderings: A rendering shows Lions Gate Hospital's future acute care tower in North Vancouver. The six-storey tower is expected to cost roughly $166 million.
NORTH VANCOUVER, B.C. — Lions Gate Hospital will be building a $166-million six-storey acute care facility after plans received approval from government officials.
The plan includes more single rooms for North Vancouver patients and an expansion of surgical services.
"With the approval of the business plan, we are now officially moving forward with the new acute care tower at Lions Gate Hospital, so residents on the North Shore can access state-of-the art, quality public health care," said Adrian Dix, minister of health, in a statement. "I know community members have advocated for years for this to happen, and our government is proud to take this next big step."
The tower will add 108 beds, eight operating rooms and a medical-device reprocessing department.
The site of the tower will be in the footprint of hospital's former Activation Building, which was demolished in spring 2017.
Funding for the project is being provided by government through Vancouver Coastal Health and a fundraising campaign by the Lions Gate Hospital Foundation.
In addition to providing better care, the tower will also be built to meet current seismic standards. The hospital is also working on a $26-million project to replace its 1960s-era power plant.
"People on the North Shore are looking forward to this long-overdue acute care tower, and it's great that shovels will go in the ground shortly," said Bowinn Ma, MLA for North Vancouver-Lonsdale.
In 2015, the foundation received a $25-million gift from North Shore resident and business owner Paul Myers to support the future development of Lions Gate Hospital.
Myers joined Keith Plumbing and Heating Company Ltd. as an apprentice in the 1950s and by 1970 he owned the company, which he transformed from a residential plumbing contractor to one of B.C.'s and the Yukon's largest mechanical contractors, employing up to 200 people.
In recognition of Myers' gift, the hospital's south acute tower was named the Paul Myers Tower in his honour. This name will be transferred to the new acute care facility.