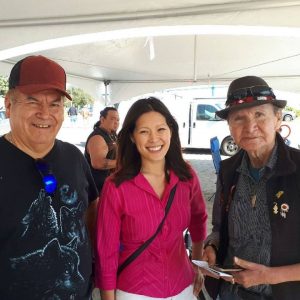 Elected as the MLA for North Vancouver-Lonsdale in May 2017, Bowinn is also a licensed Professional Engineer and certified Project Management Professional. Prior to being elected MLA, she managed terminal expansion and redevelopment projects at the Vancouver International Airport.
Bowinn's degree in civil engineering included an academic focus on transportation engineering, which serves her well in her efforts to improve transportation on the North Shore and throughout the Lower Mainland. She is also holds a Masters degree from the UBC Sauder School of Business.
As a local MLA Bowinn focuses on the issues of housing, transportation, and child care. Bowinn spearheaded the Integrated North Shore Transportation Planning Project (INSTPP) and currently serves as the Chair of the INSTPP Steering Committee. Bowinn also serves as the Parliamentary Secretary for TransLink and on several cabinet and parliamentary committees including Treasury Board, Housing Working Group, Select Standing Committee on Public Accounts, and Select Standing Committee on Crown Corporations.
The Canadian-born daughter of two Taiwanese immigrants, Bowinn started her working life with the Pacific National Exhibition at the age of 15, where she worked in a variety of part-time jobs to support herself through university. She has also worked as a geological technician and labourer in the central Yukon and served with the Canadian Armed Regular Forces between 2004 and 2005.
She got her first taste of public service during her time at the University of British Columbia, where she was deeply involved with the student political movement and launched several long-term initiatives that continue to positively impact students today.
In 2008, the Engineering Undergraduates Society of UBC created the 'Bowinn Ma Award' "in recognition of exceptional dedication, service, and self-sacrifice by an individual in completing their duties, both within and beyond the purview of their position."
After attaining a Bachelor of Applied Sciences from UBC and a Master's degree in Management from the Sauder School of Business, Bowinn launched her career in project management working with a small firm that provided strategic project management consulting in the higher education and public health care sectors.
Bowinn lives in North Vancouver with her partner and two cats.